Our Pastor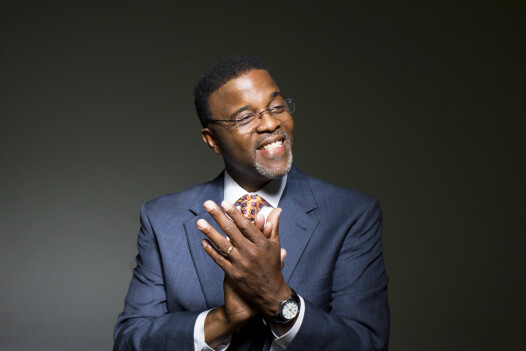 Gregory Vaughn Eason Sr., was born in Metter, GA, and is the son of Reverend William and Mrs. Geneva Eason. He graduated from East Georgia College in Swainsboro, Georgia in 1981, and from Morris Brown College, Atlanta, GA in 1983, Magna cum Laude. He continued his education and was conferred the Master of Divinity degree from Turner Theological Seminary at the Interdenominational Theological Center, Atlanta, GA in 1986. He received his Master of Theology degree from Columbia Theological Seminary, Decatur, GA in 1988 where is Thesis was: "Suffering, Liberation and Violence: A Study of God's Presence in the History of Black America." Pastor Eason received his Doctorate of Ministry degree from Columbia Theological Seminary in May, 2011. His project dissertation was entitled, "Radical Hospitality, Re-envisioning a Downtown Historic Congregation".
Pastor Eason's denominational service in the A.M.E. Church includes: President, Connectional Council for the A.M.E. Church; Vice Chairperson, Trustee Board Atlanta North Georgia Annual Conference (2005-2012); Chairperson, Search Committee - President/Dean, Turner Theological Seminary, ITC; and Chairperson, Georgia Annual Conference Board of Examiners, 1991-2004 where he was responsible for training new ministers for ordination in the A.M.E. Church - to mention a few. Pastor Eason currently serves as a board member of the World Methodist Evangelism Institute.
Pastor Eason serves on the Board of several organizations and colleges including: The Regional Council of Churches of Atlanta, Morris Brown College Trustee Board, and the Trustee Board of Turner Theological Seminary, ITC. He has contributed to several publications and productions. Among some of his writings and published works are: "Looking at AIDS through the eyes of God" (A.M.E. Church Review, 1990); "Dreams and Nightmares" (A.M.E. Church Review, 1995); Evidence of Transformative Ministry (A.M.E. Church Review, 2012); "A Small Boy with a Big Fish" (an article in the African American Study Bible) - a joint venture of The Congress of National Black Churches and Zondervan Publishing House. He has also served as a Commentator for "This Far by Faith: African American Spiritual Journeys" - a joint production of Blackside, Inc. and the Faith Project - aired on PBS Television.
Pastor Eason has been bestowed many honors including: being inducted into the Martin Luther King, Jr. International Board of Preachers at Morehouse College; a member of The International Society of Theta Phi, ITC; The Bishop Henry McNeal Turner Image Award for Outstanding Community Service, Turner Theological Seminary; and a member of Alpha Phi Alpha Fraternity, Inc. Pastor Eason is the husband of Mrs. Linda Tyson Eason. They are the blessed parents of the late Carmen Jovonne Eason and Gregory V. Eason, Jr.