Announcements
Flipper Week In A Flash
Tuesday, June 26th, 2018
Bishop Jackson's Investiture Service 7:00 pm
St. Philip AME Church
Wednesday, June 27th, 2018
Bible Study 12:00 pm & 6:30 pm
Bishop's Council Worship Service & Communion 7:00 pm
Cathedral @ Turner Chapel AME
Thursday, June 28th, 2018
UNITY Choir Rehearsal 6:30 pm
Saturday, June 30th, 2018
UNITY Choir Rehearsal 10:00 am
---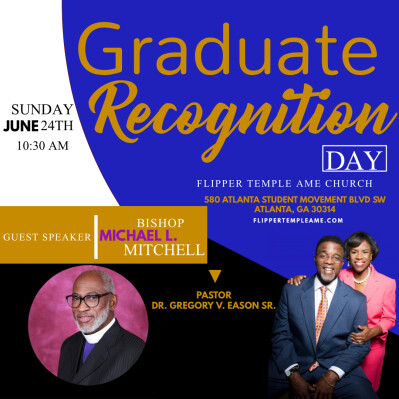 ---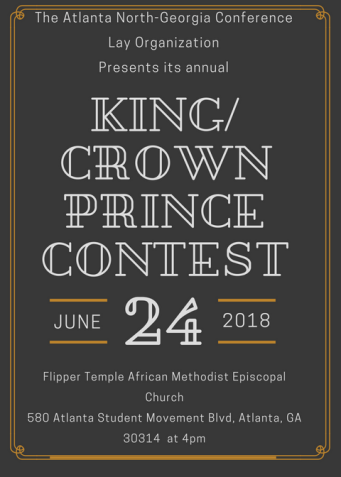 ---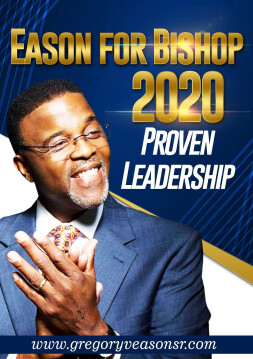 The Eason for Bishop Team needs your help! We are looking for volunteers to help next week during the AME General Board Meeting. CLICK HERE TO VOLUNTEER
---
The Men's Day Bible Study Initiative will take place on the follow- ing days at 6:30pm throughout the remainder of the year. Please add these dates to your calendar. All Men of the Church and Com- munity are welcomed. We look forward to a great time of fellowship and study. Please call Church Office for further details. Thanks Wednesday, July 25, 2018, Wednesday, August 29, 2018, Wednesday, September 26, 2018
Zumba Fitness! Join the Party! Free classes here in the Fellowship Hall on Tuesday nights at 6 p.m. Mark your calendar to save the dates! Come ready to dance the pounds away with the latest tunes. Bring water, towel and energy! Friends are welcomed!
---
The Pastor's Aid Board will meet Sunday, July 1st immediately following the Worship Experience in the Chapel.
---
Congratulations to Angelique McCoy, who received the "Outstanding Service to Georgia's Community Award" at the Roger P. Webb Awards program at Georgia Tech. Angelique was honored for her invested time in community activities that can have significant rewards for Georgia Tech in the future.
---
Congratulations to Kimberly Whitfield, who was named Assistant Principal of the Year for Fulton County Schools. The honoree was nominated by her peers, principal and selected by the area superin- tendent. Thank you to Kimberly for all you do for the betterment of our children
---
If you retired from your place of work between the years 2009 and 2018, and would like your Church Family to celebrate with you, please call the Church and leave your name with Brother Andrew Pink, by Sunday August 5th, 2018. More details will be forth coming. Thank you for your cooperation.
---
Health Alert: Flipper Temple A M E Church Family and Community! Save the date July 14, 2018. The Health and Wellness Ministry is partnering with Morehouse School of Medicine to host a Health Fair and Forum here at the church from 10:00am to 1:00pm. There will be screening for many health issues and data on how exercise can prevent and minimize many health problems such as high blood pressure, cholesterol, diabetes, heart and cardiovascular, kidney, dementia and Alzheimers diseases. Dr. Jammie Hopkins of Morehouse School of Medicine will be presenting. Many screening stations will be available. If you have questions, please contact Art Terry at 404 788-3370, or any member of the Health Ministry.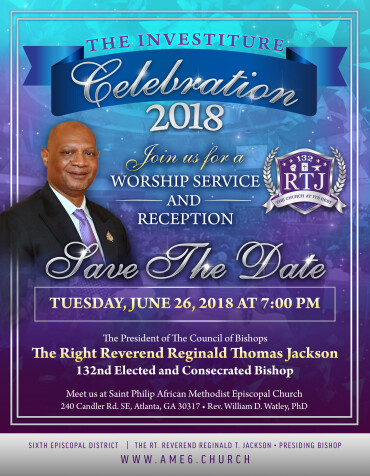 The Bishop's Council and General Board Meeting will be held at the Hilton Hotel downtown Atlanta on June 25-27, 2018. The Investiture Worship Service for Bishop Jackson will be held on Tuesday, June, 26, 2018 7 p.m. at Saint Philip A.M.E. Church in Atlanta. The Council of Bishop's Worship will be held on Wednesday, June 27, 2018 7 p.m. at Turner Chapel AME Church in Marietta, Georgia.
---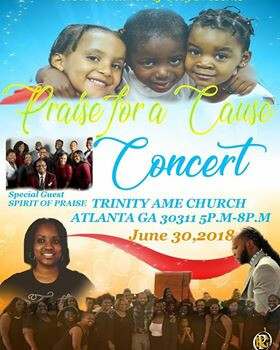 Trinity AME Invites you...Benefit concert for the Trinity Early Learning Center. Tickets are $10 at the door!
---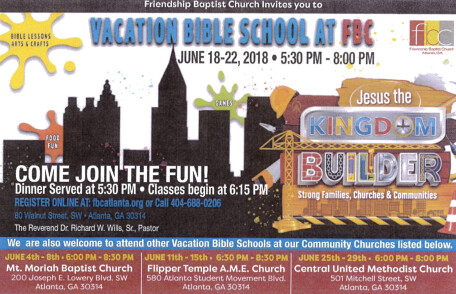 Central United Methodist Church VBS THIS WEEK!!!!
---
Congratulations LT. JG Gregory V. Eason Jr.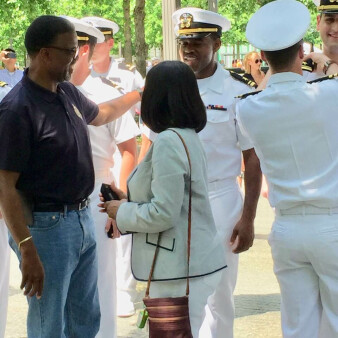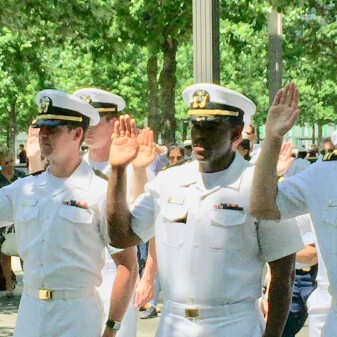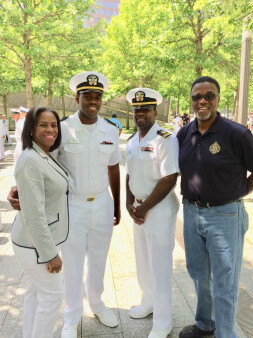 911 Memorial - NYC, NY
---
It's about to go down! SAVE THE DATE and make plans to be at the 2018 Christian Education & Leadership Congress! #6CELC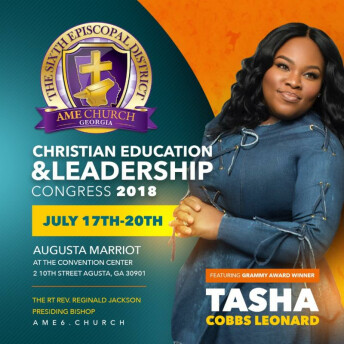 ---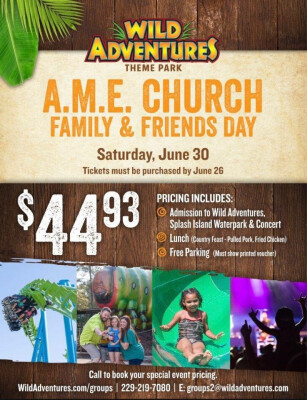 ---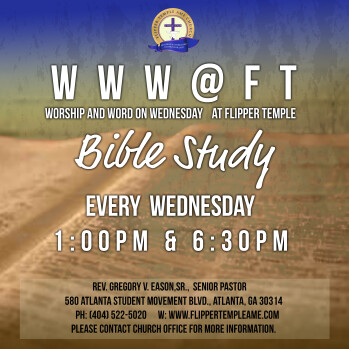 ---
---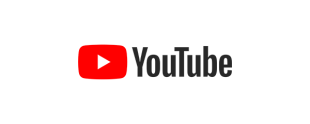 Flipper Temple Has A YouTube Page!!!
---
Membership Contact Information Update
---
Announcements should be submitted NO later than Tuesday at 5:00 pm.