Announcements
PRAYER CALL
The Prayer Call takes place every Wednesday morning at 6:00 am. The call in # (319) 527-2777 Pin# 643779.
#PrayerStillWorks Need Prayer? Pastor Eason would be delighted to pray with you! Submit a prayer request on our website www.flippertempleame.com or via our mobile app
---
The Strategic Planning team formerly the retreat planning team is asked to meet on Tuesday, March 6, 2018 at 5:30 p.m. in the conference room across from the Pastor's office.
---
The YPD will meet on Saturday, March 10th at 12 Noon. All YPDers are asked to be present. Thank you. Shannon Hodge, YPD Director
---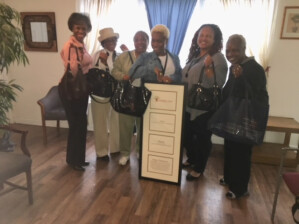 Thank you Flipper Temple! Approximately 40 purses were donated to the women in the Shelter A Family Program of Families First. Thank you so Much - The WMS
---
Men's Day Worship Celebration
March 18, 2018 10:30 am
Preacher: The Rev. Dr. Ronald L. Owens, Senior Pastor Saint Joseph AME Church Durham North Carolina
Theme: Men as Disciples of Christ, Denying Ourselves and Taking up the Cross.
Scripture: Matthew 16: 24-26
Chairpersons: Jonathan Boyd, Michael Gray, Melvin Russell, Robin Ashford, Al Leonard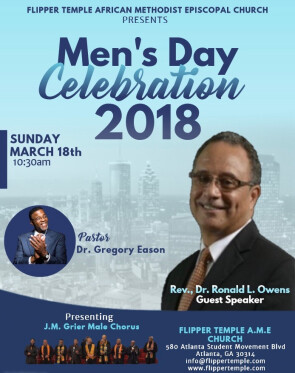 ---
Please Note Date Correction: On March 24, 2018, the Health Ministry is presenting Dr. William Cleveland, Jr., Nephrology, P.C. in a seminar on "Kidney Health and Wellness ". Please begin making plans to attend and invite your relatives , friends and neighbors. The seminar will begin at 10:00 a. m. and end at 12:00 noon. Refreshments will be served.
---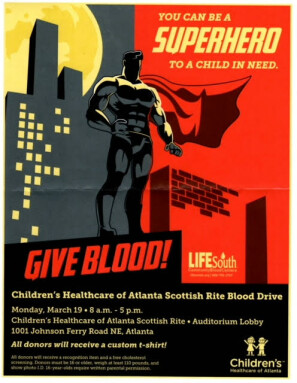 ---
Male Choir Rehearsals for Men's Day will be held on Thursday, March 8 at 7:00 PM, Tuesday, March 13th at 6:30 PM, Thursday March 15th at 6:30 pm and Saturday, March 17th at 10:00 am
---
Easter is almost near! All persons that are interested in being in the Easter program please meet me after church to get a speech or let me know what you would like to do on program. You can also call me at 678-789-2898, text me at the same number if you would like, or email me with your interest at Thank you! -YaShika Medley and the Sunday School.
---
Calling all members, guests, and friends! Come Join the Willie Davenport Empowerment Series April 7, 2018 at 11:00 am as we kickoff our first read of the year 5 Practices of a Fruitful Congregation by Robert Schnase! Everyone is invited! If you have any questions or need a book please contact Bro. Paris Brown.
---
ATTENTION ALL 2018 GRADUATES: All graduates, preschool, kindergarten, middle school, high school, college/university are asked to register with the Flipper Forum. So that we can adequately celebrate this milestone in your life, we need to know who you are. Please submit your name to Margie Terry no later than the second Sunday, April 08, 2018.
---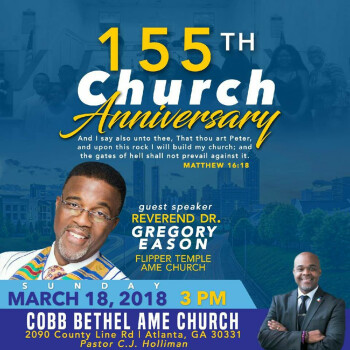 ---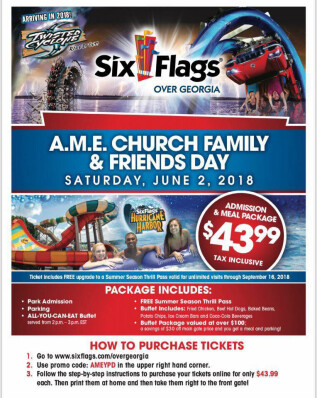 ---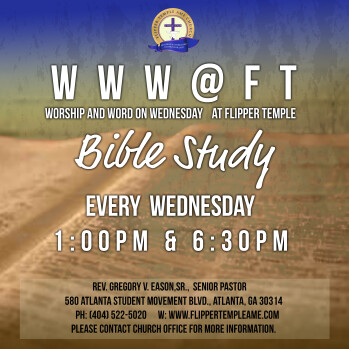 ---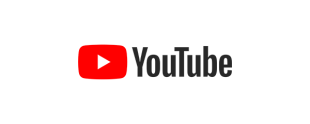 Flipper Temple Has A YouTube Page!!!
---
Membership Contact Information Update
---
Announcements should be submitted NO later than Tuesday at 5:00 pm.