Announcements
PRAYER CALL
The Prayer Call takes place every Wednesday morning at 6:00 am.
The call in # (319) 527-2777 Pin# 643779. "Much Prayer, Much Power - Less Prayer, Less Power." JOIN US!
---
On Tuesday October 24, 2017, the Emory Brain Clinic will host its 14th Brain health forum at the Woodruff Art Center. Please register as soon as possible. Parking vouchers will be provided to the first 250 guests.
To register, visit http://www.emory14thforum.eventbrite.com/ or call 404 712-1416, Cornelya D. Dorbin. Please invite family members and friends. Everyone must register. Please register as soon as possible. If you have questions please call Art Terry or Cassandra Perry.
---
WWW@FT – Worship and Word on Wednesday at Flipper Temple. Two opportunities for worship and word. Wednesday from 1-2 p.m. (Chapel) and 6:30 – 7:30 p.m. in the Sanctuary. The word will be on "Forgiveness" October 11th , 18th and 25th . Bible study will be geared toward officers, members, and our community.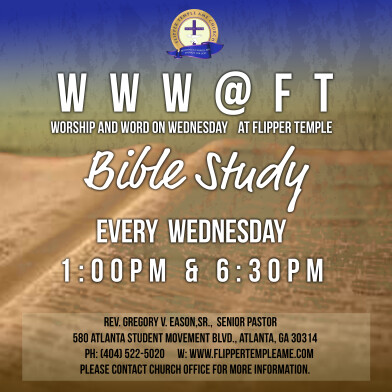 ---
The Flipper Temple AME Church Health Fair will take place on Saturday, October 21, 2017 from 10:00am to 2:00pm. We will be screening for the following: Blood pressure, Glucose, Cholesterol, Dental Health, Nutrition, Prostate, Health, Alzheimer's, Diabetes, Vision, Medicare Benefits, Final Arrangements. Please plan to attend and take advantage of these and other Health Tests. A Healthy Church is a Vibrant Church. PASS THE WORD!!!!!! Please see Bro. Art Terry or Sis. Cassandra Perry for further details. You may also call the Church office.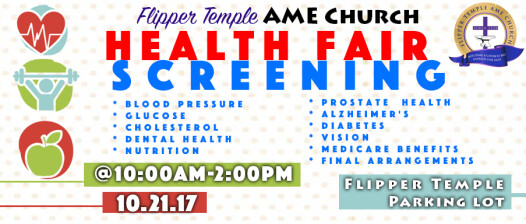 ---
The JM Grier Male Chorus will rehearse on Thursday, October 19, 2017 at 6:30pm. We will rehearse in the Choir Room. All interested and returning members are welcomed. We will also rehearse on Saturday, October 21, 2017 at 10:00am. YOU ARE INVITED!
---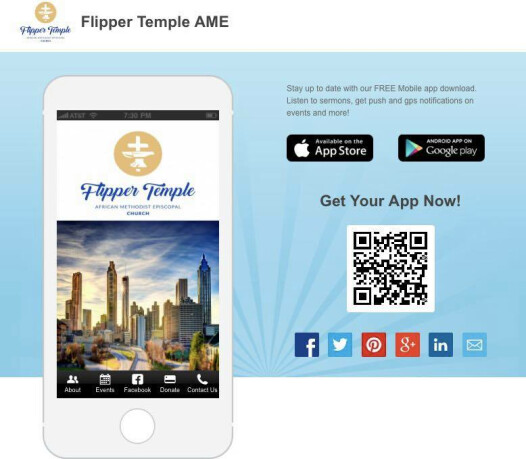 ALASKAN CRUISE 2018
CARNIVAL LEGEND
AUGUST 21-28, 2018

Balcony 8B- $1,714.23 PP
Balcony 8C - $1,734.23 PP
Interior 4B - $1,194.23 PP
(other cabin levels available)

Due to the limited number of ocean view cabins, you must book by special request (contact Liz Iles)
*All prices based on double occupancy
(The above fares include base cabin fare, government taxes, port charges and gratuities.)
CRUISE ITINERARY
| | |
| --- | --- |
| Tuesday, 8/21 | Embarkation - 4:00PM - Seattle, Washington |
| Wednesday, 8/22 | FUN DAY AT SEA |
| Thursday. 8/23 | Cruise Tracy ARM F JORD (Glaciers) |
| Friday, 8/24 | Skagway, AK |
| Saturday, 8/25 | Juneau, AK |
| Sunday, 8/26 | Ketchikan, AK |
| Monday, 8/27 | Victoria, BC (Canada) |
| Tuesday, 8/28 | Debarkation - Seattle |

SPECIAL NOTE
Trip cancellation insurance is not required but strongly recommended. All fares are subject to change until actually booked. ALL PASSENGERS MUST HAVE A VALID PASSPORT. Name on passport must match cruise reservation.
For booking go to http://www.ytbtravel.com/FTAMEC; click on groups and scroll down to Flipper Temple.
First deposit of $400.00 due by December 27, 2016
Balance due May 16, 2018
For assistance or more information contact:
Sis. Elizabeth (Liz) Iles
404-761-6083
---
Announcements should be submitted NO later than Tuesday at 5:00pm.