Announcements
Trustees on Duty for November
Sis. Shannon Hodge/ Bro. Michael Gray
---
SUNDAY- PHILIPPIANS 1:19-26
MONDAY- ROMANS 6:1-14
WEDNESDAY- HEBREWS 10:19-25
THURSDAY- JOHN 13:31-35
SATURDAY- MARK 1:40-45
Tuesday November 13th, 2018
Steward Board Meeting 6:30 pm
Anniversary Choir Rehearsal 7:00 pm
Wednesday, November 14th, 2018
Bible Study 12:00 Noon
"Revelation & Empire" Bible Study 6:30 pm
Thursday, November 15th, 2018
Anniversary Choir Rehearsal 7:00 pm
Saturday, November 17th, 2018
ANGC YPD Fun and Praise 8:00am -2:30 pm
Anniversary Choir TBA
---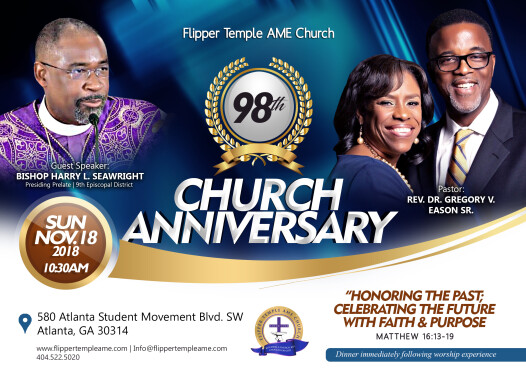 Flipper Temple African Methodist Episcopal Church reaches a milestone this November, celebrating 98 years of ministry with the theme:"Honoring the Past; Celebrating the Future with Faith and Purpose". Colors: Navy Blue & White. The 133rd Elected & Consecrated Bishop of The African Methodist Episcopal Church and Presiding Prelate of The Ninth Episcopal District (the State of Alabama) - - The Reverend Dr. Harry L. Seawright will serve as the speaker for this auspicious occasion. Members are asked to make a special contribution to the church ($1 for each year) above their tithes and offering. This special day is a family affair...invite everyone you know to worship with us Sunday, November 18, 2018 at 10:30AM.
---
This year for Church Anniversary we are asking church members to donate those divine homemade desserts! Your in-kind donation is sure to be a delicious addition to the marvelous meal being prepared. Treats can be dropped off in the Fellowship Hall next Sunday. See Sis. Ernestine Mattox for details.
---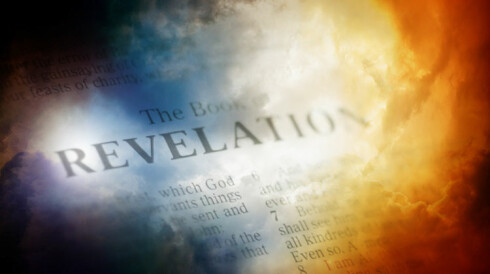 Join our exciting Revelation Bible study entitled "Revelation and Empire". Dr. Love Sechrest Executive VP, Academic Dean and Associate Professor of New Testament at Columbia Theological Seminary and Member of Flipper will be our teacher. This 10 week session will be held in the Jones Chapel (beginning on Wednesday October 31, 2018 @ 6:30 PM.) Join us this Wednesday, November 14th @ 6:30 PM!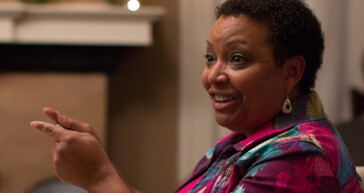 ---
GIVING KIOSK UPGRADE COMING SOON
ATTENTION ONLINE GIVERS!! If you do not have a password associated with your account please create one at your earliest convenience.
---
Sis Eason will be facilitating a Grief support group, for those grieving any loss. You are not alone and are welcome to join us every Thursday after the first Sunday at 6:30 pm in the Maude Roberts Room.
---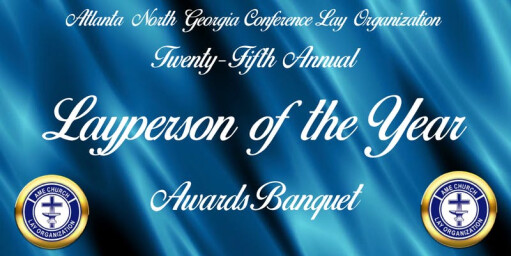 ---
ATTENTION!!!!! The Sylvia Williams Food Pantry in association with the WMS and The Atlanta Food Bank have partnered in an effort to feed more weekly. The Food Pantry is opened each Wednesday from 11:00am-2:30pm. There is a need for more Volunteers. If you are retired, or have time in your schedule to assist please contact the Church Office at (404) 522-5020 to sign up. You may also contact Mrs. Sheila Williams-Cain at 404 932-2136. There is a form on the Website that you may complete also. This effort is in compliance with our Strategic Plan areas of Evangelism and Stewardship with emphasis towards Social Action. We look forward to hearing from you. Thank you.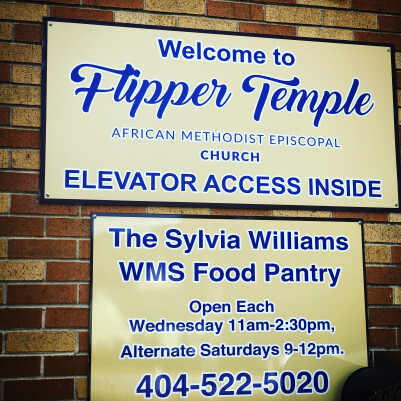 ---
We are asking for donations for our Clothing Closet. Clothing donations must be clean and fairly new. There is a need for shoes, Men's clothing and sealed toiletries. Please see or contact any member of the Food Pantry or call the Church Office at 404 522-5020 for more information. Donations may be made on any Wednesday between the hours of 11-2:30pm or call the Church office to make arrangements for a more convenient time. Thank you.
---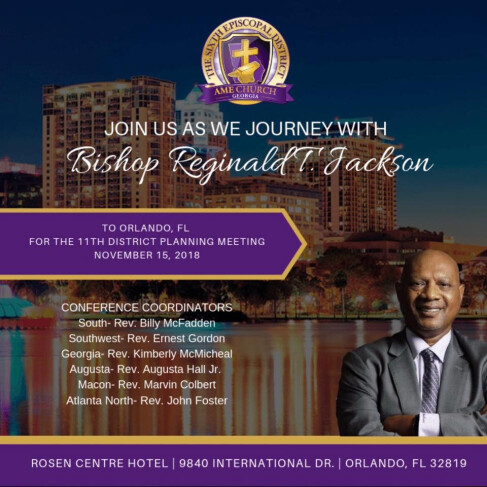 ---
Join us for Flipper Temple's Prayer Call Wednesday at 6:00 a.m. The prayer call will take place every Wednesday morning at 6:00 a.m. Call in # (319)-527-2777 Pin # 643779. "Much Prayer Much Power - Less Prayer Less Power." Join us!
---
Not Getting Text Message Alerts?
---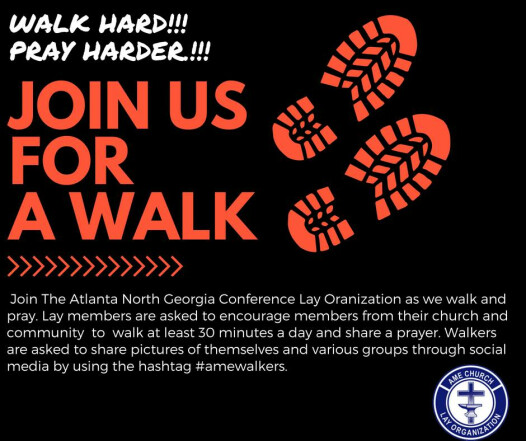 ---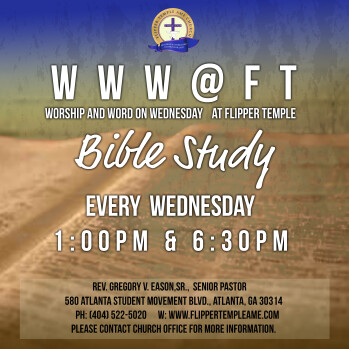 ---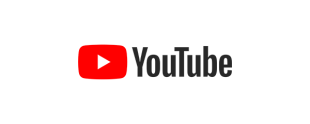 Flipper Temple Has A YouTube Page!!!
---
Membership Contact Information Update
---
Announcements should be submitted NO later than Tuesday at 5:00 pm.