Announcements
Church School: 9:15 AM
Morning Worship: 10:45 AM
---
Dear Flipper Family:
Please know that you are in my prayers during this time. Please join in to our worship Sunday morning at 10:45 a.m. You can tune in on the website
www.flippertempleame.com
, Facebook Live, Youtube or Zoom. We are working to connect you to church school tomorrow at 9:15 a.m. via Zoom. Continue to pray for your fellow members and community. These are unprecedented times in which we live. We encourage you to continu e to support your church through online giving options on our website, givelify, church app, paypal. You can also mail your tithes and offerings to 580 Atlanta Student Movement Blvd Atlanta, Ga 30314. We will be in touch as it relates to weekly activities.
Dr. Gregory V. Eason, Sr.,
Senior Pastor
Sick and Shut In
Let us remember our members on our sick and shut in list
Bereaved
Remember those on our extensive sick and shut in list that was in our bulletin before the coronavirus.
---
Flipper Temple AME is inviting you to a scheduled Zoom meeting.
Topic: Flipper Temple AME Sunday School
Time: August 2, 2020 9 :15 AM Eastern Time (US and Canada)
Dial In Number: 646-558-8656
Meeting ID: 404 522 5020
---

---
Not Getting Text Message Alerts?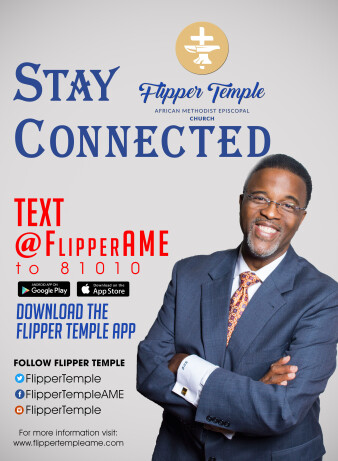 ---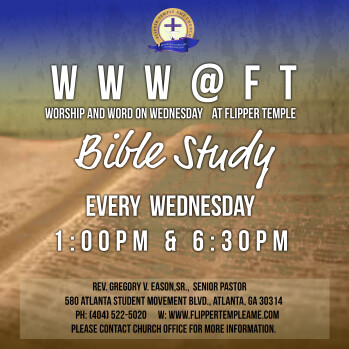 ---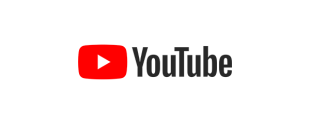 Flipper Temple Has A YouTube Page!!!
---
Membership Contact Information Update
---
Announcements should be submitted NO later than Tuesday at 5:00 pm.